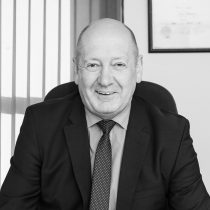 John O'Mahony is a fully qualified Chartered Surveyor and Auctioneer, having successfully completed all the relevant examinations. He is a member of the Society of Chartered Surveyors Ireland, the Royal Institute of Chartered Surveyors and a fully Registered Valuer. He has a vast level of experience in both Cork City and County, and is an approved valuer for most major lending institutions and local authorities. John is also a fully qualified financial advisor.
John co-founded O'Mahony Walsh Auctioneers and Valuers, which was established in 1987.  Himself and his co-directors proceeded to develop that Company into a leading estate agency practice in Cork.  In 2018, John co-founded J & M O'Mahony/OM2 with his colleague Michael and is looking forward to a new challenge in a new era embracing new technologies.
John's passion for sales is second to none and you can rest assured that John's dedication and commitment will get your transaction over the line.
---
Contact Details
---
Send a Message